Updated on January 4, 2023
As most of you know, I live in northern Arizona. Our temperatures in the summer are cooler than Phoenix, but this summer has been so hot. We have had so many days above 100°. And now, thank goodness, we are finally getting our monsoon rains. Every afternoon the clouds roll in, cool things off, and we get a huge storm for an hour or so.
We have spent a lot of days cooped up inside because of all this hot and stormy weather. Finding things for the kids to do can sometimes be a challenge. One of our favorite things to do is build LEGOs.
This post contains affiliate links. Your cost is the same, but a portion of your purchase will go to support this site and help keep the content free. Please read my full disclosure policy here. Thank you to LEGO for sending me The LEGO Heartlake Summer Pool for review.
LEGO Friends Heartlake Summer Pool
One of the sets my daughter has been eyeing is the LEGO Friends Heartlake Summer Pool. It is such a cute and fun set!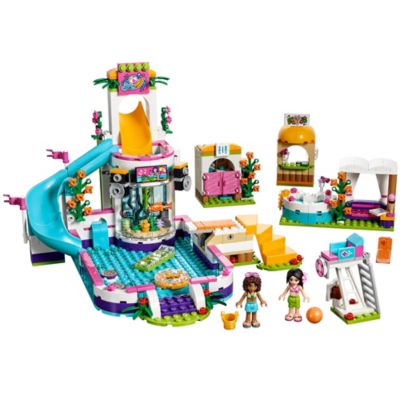 It comes with two girls – Andrea and Martina. My daughter was especially excited about Andrea as we don't have her yet with any of the other sets we own. Since my daughter's name is Olivia we tend to buy a lot of the LEGO Friends sets that include the doll, Olivia.
This is a big set with 589 pieces.
My daughter wanted to do it all by herself. This is the biggest set she has ever tried to do on her own. She did eventually let me help a little and it ended up being a fun activity for us to do together. Even the kitty helped!
It comes with two instruction books and five bags of LEGOs. For any LEGO set that we build, we follow the instructions and dump each bag, as needed, onto a cookie sheet as we go. This helps us from losing all those tiny pieces.
This set includes the large pool. The pool has a wavy slide, springing diving board, shower, TV screen, two speakers, and a fountain. You can build a rubber ring and air mattress to help the girls float and relax in the pool.
I think my favorite part of the whole set is the aquarium.
The girls can relax in the day bed area and take a dip in the heart shaped hot tub.
There is also a juice bar. It includes a pineapple, cherries, and watermelon slices. How cute is that little blender for whipping up delicious drinks?
It also includes a lifeguard stand and a bathroom with a little toilet, sink, and a set of lockers outside.
My daughter already has several other sets of the LEGO Friends so now all the girls can hang out in the pool together. This would be a fun set to pair with the Sunshine Catamaran or the Heartlake Surf Shop.
Tell me your favorite LEGO set you have built recently.
Purchase the LEGO Friends Heartlake Summer Pool. Become a LEGO VIP member to earn 1 VIP point for every dollar spent and get a $5 reward for every 100 points earned! Plus, earn bonus VIP points on select LEGO sets every month, both online and in store!
You may also like: