Updated on July 12, 2014
I am so excited to be participating in the Craft Lightning Series run by Angie at the Country Chic Cottage and Carolina at 30 Minute Crafts!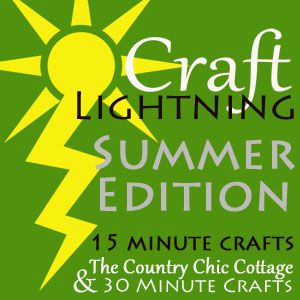 Today I am going to show you a fun, quick craft that will take you less than 15 minutes to complete. You only need a few supplies. Plus, this craft is actually very inexpensive to create or you might even have everything at home already!
DIY Ombre Luminary
Supplies Needed:
Glass vase (a straight-sided one works best)

Tissue paper
Scissors
Mod Podge (any finish – glossy or matte will work)
Paint brush
Step One: Start by cleaning your vase with warm, soapy water. You want to make sure it doesn't have any residue on it. (I purchased my vase from Dollar Tree). Measure the circumference of your vase and how tall your vase is.
Add 1/4″ – 1/2″ to your circumference measurement. (You need this extra bit to overlap your pieces on the back.)
Tip: I used a cloth tape measure, but you could just as easily use a piece of string.
Step Two: Cut your tissue paper pieces to size.
Start with the largest piece. My first pieced ended up being approximately 11 1/2″ x 7 1/4″. (The 11 1/2″ includes the overlap.) I chose to have the color go all the way to the top, but you can also choose to leave a little bit of clear showing at the top of your vase.
The next largest piece will be the circumference by the height of your vase minus 2 inches. So my next largest piece was 11 1/2″ x 5 1/4″.
Continue cutting pieces of tissue paper until you reach a piece that is around 2 inches tall. (It does not have to be exact.) I ended up with 4 pieces total.
Step Three: Starting with the largest piece first, brush a medium layer of mod podge onto your vase. Carefully smooth your tissue paper around your vase. You want to use a patting motion, not a tugging motion, or the paper will tear.
To overlap the edges, spread mod podge on the edge and cover with the other edge.
Step Four: Continue moving down the vase, applying mod podge and tissue paper until you reach the bottom piece.
To be sure that my seams somewhat lined up in the back, I found the center of the tissue paper and applied from the middle out around to the back.
Tip: To be able to more easily work with my project, I made my hand into a fist and stuck it inside the jar. This allowed me to work my way around the vase, without getting mod podge all over my fingers and possibly tearing the tissue paper.
Step Five: After you have applied all your pieces, allow the vase to dry for about 5 minutes. Apply a layer of mod podge over the entire vase. (You are going to have wrinkles, but that is part of the charm. It is not worth your time to try to smooth them out. You will most likely end up tearing your paper.)
Tip: If you are having trouble with your brush tearing the paper, apply a little water to your brush before you dip into your mod podge. Also, every few strokes use more mod podge on your brush. A too dry brush will tear your paper.
Allow the vase to dry (at least 24 hours).

Please be aware mod podge is water soluble, so it is not waterproof. To make your project waterproof you will need to apply a clear, outdoor acrylic sealer.
Linking here:
The Shabby Nest
/
Sugar Bee Crafts
/
Tatertots and Jello