This is a Sponsored post written by me on behalf of
Moen, Incorporated
. All opinions are 100% mine.
If you have been reading this blog since the beginning, you will know we started a mini kitchen renovation almost 2 years ago! We taped joint seams, painted over some really hideous walls, updated all the hardware on the cabinets and gave a few other items a facelift. Then life got busy with two kids and we didn't really have the time or money to finish up the last few items on our list.
We have awful laminate countertops that are peeling up and overall in really bad shape. We finally are to the fun stage of picking out tile (we are going to DIY our countertops)! My husband and I were talking more about the update and figured if we are pulling out the sink and faucet to re-do the counters, now would be the great time to replace both!
We replaced our faucet when we did the orgininal changes to our kitchen. We basically just needed something a little better than the old one. Not to mention the fact that the old homeowners put the faucet handles on backwards so you had to turn the handles towards the wall instead of towards the sink to turn the water on!
Now that we have lived with our kitchen for a while, I really want something much more updated and modern looking. I would love to have a pull down faucet so we could eliminate the need for an extra sprayer. I also want something with a really high arch so that I don't have to finagle my pots and pans underneath it while doing dishes. I have been searching for the perfect faucet, and Moen is definitely at the top of the list!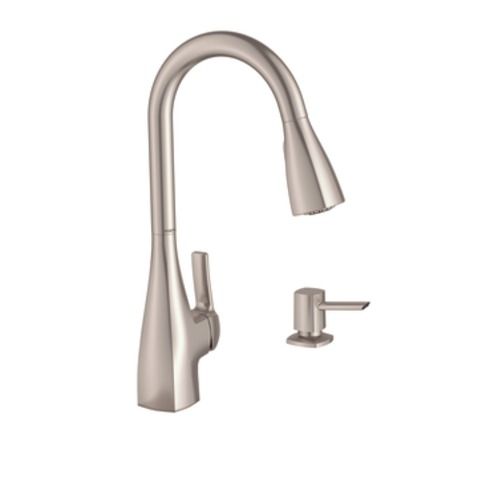 Isn't it beautiful?
The Moen Boardwalk offers all of these features plus more! It also has a spot and fingerprint resistant finish. Anything that will cut down on cleaning time in the kitchen is a huge score for me!
I can't wait to share with you the last steps of our kitchen renovation. And I can't wait for it to be all done! (Although living without a kitchen sink for a weekend will not be so fun.)
Learn more about Moen and all of their great faucets:
You can purchase the Kiran Spot Resist one-handle pulldown kitchen faucet at Lowe's!
© copyright 2013 – All rights reserved
Thank you for reading Laura's Crafty Life!