Merry and Bright Wreath. Use supplies from Dollar Tree to create a festive holiday wall hanging you can use on your front door.
By now, you all know how much I love Dollar Tree crafts. We live in a small town and the nearest craft stores are about 30 minutes away. But, lucky for me, we have a Dollar Tree close to my house.
Dollar Tree has so many fun craft supplies to choose from and since everything is only $1, it doesn't cost too much!
Today, I am going to show you how to make this festive merry & bright wall hanging you can use as a wreath for your door or to hang somewhere else in your home.
This post contains affiliate links. If you purchase something through the link, I may receive a small commission at no extra charge. Please read my full disclosure policy.
How to Make a Merry and Bright Wall Hanging
Supplies:
Paint the Wooden Sign
Paint the wooden sign in whatever colors of craft paint you would like.
I found red and gold floral stems to accent my wreath, so I painted the Merry & Bright sign in red and gold. I used Plaid FolkArt paints I had on hand, but Dollar Tree also sells craft paints in some stores.
To make the red words "merry" and "bright" look different, I added glitter to the word bright only while the paint was still wet. Acrylic paint dries quickly, so work in small sections, adding a little paint, then glitter, as you go. Allow the painted wooden sign to dry.
I found it helped to tap the chunky glitter down flat with my finger so I got better coverage and not so many pieces sticking straight out.
You could also use a more fine glitter to get better coverage over the paint. If you decide to add glitter after the paint has dried, brush on Mod Podge over the dry paint and sprinkle on the glitter.
Helpful Tip: If you plan to hang your wall hanging on a front door or outside, be sure to seal the wooden sign with a clear spray sealer after it is completely dry.
RELATED: DIY Holiday Wreaths
Wrap the Wreath
Start by wrapping the garland around your wreath form. You can twist the end a couple of times around the metal wreath to attach it at the start.
When you get to a corner, use a garland tie (cut in half) to secure the wreath at the corner.
Twist the tie around the upper corner of the metal wreath and wrap it around the garland to hold in place.
Continue wrapping your wreath with the garland and securing the corners with garland ties.
I used just a little over 2 garlands to fully cover my wreath. If you didn't wrap the garland so close together for a fuller wreath you can probably get by with only two garland strands.
Decorate the Wreath
Last, decorate your wreath using the painted wooden sign and floral stems. To attach the wooden sign, I used a garland tie (cut in half) to attach it to the wreath. You could also use ribbon or string to attach it. I liked how the garland tie blends perfectly into the wreath.
Next, cut the floral stems into separate pieces. I used a gold Christmas glitter floral pick, red berries, gold berries, and red iced berry branches to decorate the wreath.
Then, I simply tucked in the floral stems to the wire wreath. You can use a dab of hot glue to secure everything, but so far, it seems to be holding up well.
After I finished making this merry & bright wall hanging, I realized it was very similar to the paper flower Christmas wreath I made with my Cricut. Two similar ideas, using different supplies to create a beautiful holiday wall hanging.
RELATED: Dollar Tree Craft Ideas
Minus the paint I had on hand, this wreath cost me only $12 to make! And I have garland, garland ties, extra floral stems, and ribbon leftover I can use for another craft.
Creative Crafts – Christmas Edition
This holiday craft is part of Creative Crafts Christmas Edition. Creative Crafts is a series hosted by Me and My INKlings, Makeable Crafts, Creatively Beth, and Bella Crafts Publishing. Some of your favorite crafters come together to create crafts around a specific theme! Be sure to check the hosts' blogs all week for more Christmas craft ideas.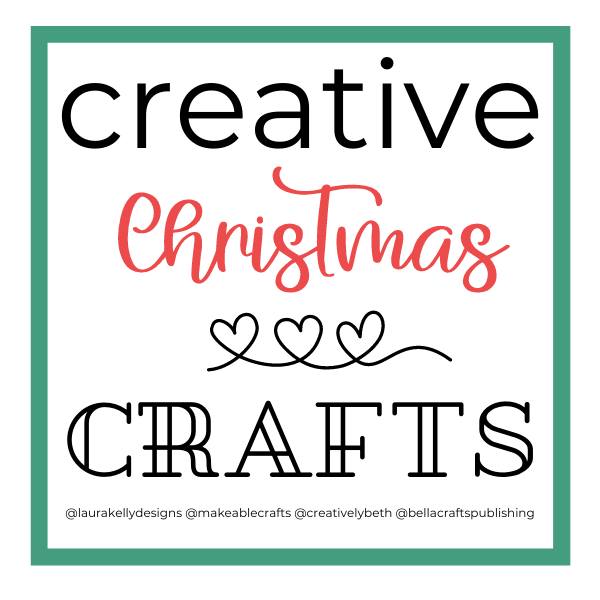 You may also like: