Mason Jar Snow Globe. With a few simple supplies and less than fifteen minutes, you can create a mini winter wonderland with this snow globe tutorial.
I am participating in another edition of Craft Lightning. I created a mason jar snow globe. This project takes only a few short minutes to make. It is easy enough for your kids to make their own. My son added an action figure in his and my daughter added some holiday bear ornaments to hers.
Mason Jar Snow Globes
This post contains affiliate links. If you purchase something through the link, I may receive a small commission at no extra charge to you. Please read my full disclosure policy here.
Supplies:
Open your mason jar. Using your hot glue gun, glue your tree to the lid.
Next, you will add your snow, water, glycerin and tree to the mason jar. Do all of these steps over the sink.
First, add water to the jar. Leave a little space at the top of the jar. Then, you will add a couple spoonfuls of your fake snow. I chose the glittered snow, but you can use pretty much any of the fake snows you find at the craft store. Add a little squirt of the glycerin. This will help to make the snow fall more slowly. Then, carefully add your tree. It is okay if a little water spills out. Screw on the jar band tightly.
Note: If you have small kids, you may want to add a little glue to the inside of the band so they cannot take the jar apart.
The jar looks so pretty when you swirl the snow!
This hot glue craft was part of Craft Lightning Hot Glue Edition. Craft Lightning is a series hosted by The Country Chic Cottage and 30 Minute Crafts. Some of your favorite crafters come together to create crafts around a specific theme that take less than 15 minutes to make! Be sure to check the hosts' blogs all week for more easy and quick holiday crafts.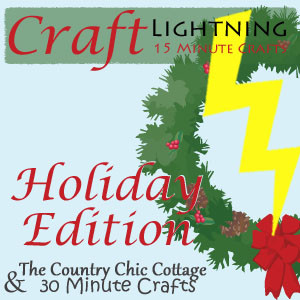 You may also like: