Updated on May 23, 2023
It is time again for another round of Craft Lightning. If you are new to Craft Lightning, a group of your favorite bloggers come together to each create a craft that takes less than 15 minutes to make. This month's theme is camp crafts. Head over to The Country Chic Cottage and 30 Minute Crafts to see all the crafts that were shared this week!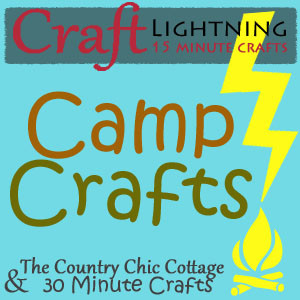 Do you subscribe to Family Fun magazine? If you have kids, it is a great source of inspiration for fun things to do with the kids – crafts, recipes, holiday activities, etc. I saw the idea to make tin can robots in a special edition issue of Family Fun.
Supplies needed (contains affiliate links):
Step One:
Remove the labels from your cans. Wash and dry your cans. Be sure there are no rough edges where you removed the top. File down any rough edges, if necessary.
Step Two:
Gather robot parts. We used various nuts, bolts, screws, washers, etc. that we had in our workshop. We also used pipe cleaners, jewels, googly eyes, buttons, and beads.
You will also need small magnets and a glue gun.
Step Three:
Start assembling your robot parts. Use your imagination. The metal parts will stick to the magnets and no glue is necessary. For non-metal parts an adult can use a hot glue gun to adhere the parts to the magnets.
Step Four:
Attach your robot parts to the can with the magnets to create faces or whatever your heart desires. The great thing about these robots is you can make new creations over and over again. Even though the actual preparation of the robot parts takes a short amount of time, my children happily played with them for over an hour!
What activities do you do to keep the kids busy in the summer?