Harry Potter Planner Charm. Create a fun planner charm to clip into your favorite planner featuring your favorite wizard – Harry! This charm includes a lightning bolt, Gryffindor colored beads, potions bottle, Hedwig, and the golden snitch.
Calling all Harry Potter and planner fans! This craft is for you. I love Harry Potter and my planner, so making a Harry Potter planner charm seemed like the perfect craft to combine the two. This adorable little charm can clasp onto your planner rings or the binding. You can customize this idea to create a planner charm for any of your favorite Harry Potter characters.
Supplies:
Harry Potter Planner Charm
I found as many pre-made charms as I could at the craft store. I was able to round up a white owl to represent Hedwig, a lightning bolt for Harry's scar, small glass potions bottle, and red and gold beads to represent Gryffindor House. I also found wings and a gold ball to create a golden snitch.
Create a Golden Snitch Charm
Start by adding the gold ball and wings to a silver headpin.
Bend the headpin at a 90° angle using needle nose pliers.
Use round nose pliers to create a loop in the headpin where you bent it.
While holding the loop with your round nose pliers, use your fingers or the needle nose pliers to wrap the extra wire just below the loop but above the wings.
This wire wrapping technique can be used for any type of bead.
Prepare Other Charms
Next, you will want to prepare any other charms before attaching them to the chain. I created three colored bead charms in both red and gold to represent Gryffindor House. I used the same wire wrapping technique as above on two of the beads. The other bead, I added a bead cap and simply created a loop at the end. You will do this in the same way as if you were going to wire wrap your bead, but instead of wrapping the excess wire, you simply snip off the excess.
For the potions bottle, I opened it up and added some chunky gold glitter. You could add any color you wanted, but I wanted mine to look like Felix Felicus, which was gold. Add a little hot glue to the top before placing it back on the bottle to make sure it doesn't come apart.
For almost all of the charms, you will need to add a jump ring to be able to attach the charm to the chain. Open your jump ring by using both your flat nose and round nose pliers. Grab the jump ring on either side of the opening and pull in opposite directions to separate the ring.
To close a jump ring, simply pull the two edges toward the middle of the ring and make sure there is no gap between the two ends.
Add Charms to the Chain
Add your lobster clasp to the length of chain you are using with a jump ring. Cut your chain as long as you want. Since I was using a larger chain, I left six chain lengths on the lobster clasp.
Use the jump rings to attach all of your charms to the chain. Add one to two charms to each loop of the chain depending on how big your chain is.
Now, your planner charm is ready to be added to your planner! It is a fun way to show my love for Harry Potter in my planner.
Additional Ideas for Charms:
This post is part of the Happy Harry Potter series at Raegun Ramblings! Be sure to check out all the Harry Potter projects from past years and find all the new Happy Harry Potter creations from this year here, the post is updated daily!
The Giveaway
Don't forget to enter the giveaway, even if you've already entered you can get another entry every day for pinning a different post! One lucky winner will receive all the amazing things below!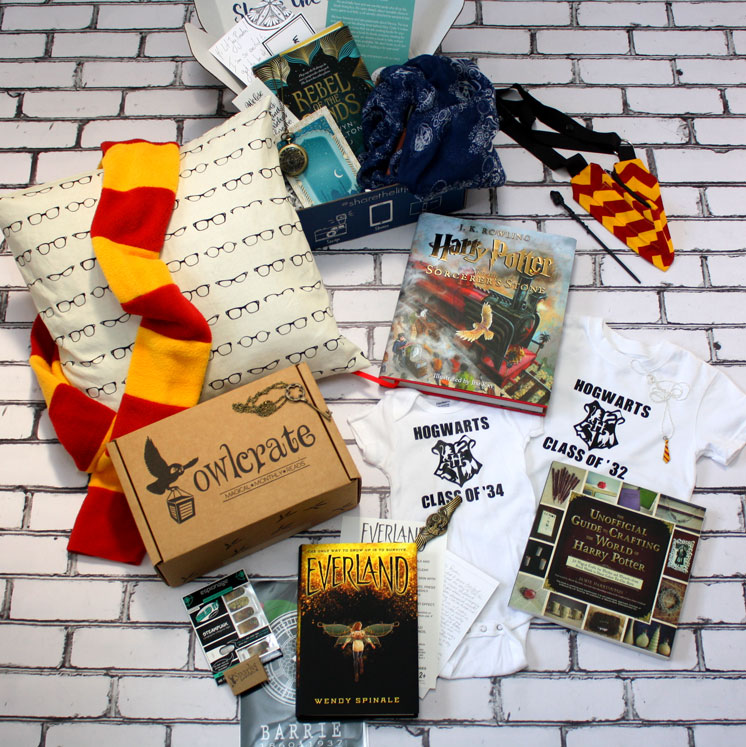 $50 Amazon gift card perfect for picking out your own awesome Harry Potter swag or stocking up on craft supplies to make your own inspired by the great tutorials from the series!
$50 Shop credit to spend on LuLaRoe with RaeGunRoe who will be having a special Harry Potter inspired event during the series!
One Harry Potter Baby Costume or House Tie Necklace from RaeGun perfect for Halloween, or sporting to a vacation to the Wizarding world, or just for any old Tuesday!
One Nerdifore from Giggles and Mischief (put to a $40) she makes the cutest Harry Potter inspired dresses for big girls as well as My Little Pony, Super Hero and other awesomely geeky options.
Dumbledore and Harry Potter action figures!
Other surprise Harry Potter swag!
To Enter
Use the Rafflecopter Widget below to enter to win (or clicking here). Giveaway ends on September 22nd. Must be 18 years old or older to enter. Open to U.S. residents. All rules and entry guidelines must be followed to be eligible to win. The winner will be chosen at random and notified via email. Winning entry will be verified. No purchase is necessary. Odds of winning are based on the number of entries. If the winner chosen does not respond to email notification within 48 hours a new winner will be chosen. This giveaway is in no way affiliated, administered or endorsed by Instagram, Facebook, or Pinterest. No information will be disclosed to any of the sponsors by entering this giveaway. Laura's Crafty Life is not responsible for sponsors that do not fulfill prizes. Please email laurascraftylife@gmail.com with any questions or additional information.
You may also like: