Updated on October 26, 2018
I realized today that I hadn't shared the gift I made for the Handmade Gift Exchange at Craftaholics Anonymous. Today is the last day to link up, so I figured I better get on it! So, you get two posts in one day.
If you have never done the gift exchange before, basically it works like this: you get paired up with another persona and you each make the other person a handmade gift(s). Linda hosts one in the spring and usually right around the holidays.
I made 3 different gifts for my partner. Her favorite color is yellow, so I made two pairs of earrings for her. I made rose cabochon earrings and some glass bead earrings.
I also thought she would be able to use a Christmas planner (or journal) since it was almost December! I use a composition notebook and cover it with scrapbook paper adhering it with Mod Podge.
I made five tabs and attached them with double sided tape. I added a cute felt Christmas tree sticker on the front.
On the inside I adhered embellished envelopes to keep track of receipts or coupons, or anything else!
I lucked out with my partner. She really spoiled me! I received a zippered pouch, necklace, bracelet, and some handmade note cards.
To see all the projects that were linked up click the image below: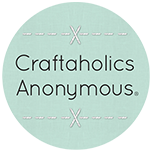 Linked up here: Craftaholics Anonymous