Glitterific Easter Eggs. Use FolkArt Glitterific paints to make this adorable painted wooden Easter egg craft.
I don't know about you, but I love glitter. I love the sparkle and shine, but I definitely don't love the mess, especially when I am crafting with the kids. If I can create a mess-free craft with glitter it is a win in my book.
Today, I am going to show you how easy it is to create beautiful sparkly Easter eggs you can make with your kids.
This post contains affiliate links. If you purchase something through the link, I may receive a small commission at no extra charge to you. Please read my full disclosure policy here.
How to Make Glitter Easter Eggs
Supplies:
This project really is so simple! You can make your egg designs as fancy or as simple as you like.
For this project, I am using Glitterfic Paint from Plaid. This paint is made up of multiple size glitter particles suspended in a crystal clear base. You can use it alone like I did here, or with a base coat of acrylic paint underneath.
I found my wooden egg blanks at Dollar Tree.
Use Glitterific Paint Instead of Glitter
I created three different designs with the paint. For the first one, I added dots of paint to the egg. The paint is a thick consistency so it is easy to create a multi-dimensional effect.
Helpful tip: Squeeze the bottle of Glitterific paint to bring it up to the top of the bottle. Then, grab as much as you need to add to your project.
The second egg, I painted the entire egg with different colors of paint (in rainbow order, of course). For this technique, I started at the top with one color and painted a section of the egg.
Then, I wiped my paintbrush off of the wet paper towel and added the next color. You are creating stripes of color all the way down the egg.
RELATED: More Kid Craft Ideas
The final design was the most complicated, but still pretty easy to do. I painted thick designs like zig zags, dots, and stripes, using different colors of paint.
Then, after they dried for a few minutes, I added a thin layer each color in the blank sections of the egg. As, you can see, you can layer this paint to be as thick, or thin as you need.
Since all of the bases of the paints are clear, I wipe my paint brush off with a wet paper towel in between colors. No need to even get out a cup of water. This truly is a not to messy craft. If you are doing this project with children, place a paper towel down for them to paint their egg on.
When you are all finished, allow the eggs to dry. You could add a magnet to the back, hot glue a ribbon on the back to hang, or place them on display on your shelves.
Creative Crafts – Easter Kid's Craft Edition
This craft is part of Creative Crafts Easter Kid's Edition. Creative Crafts is a series hosted by Me and My INKlings, Makeable Crafts, Creatively Beth, and Bella Crafts Publishing. Some of your favorite crafters come together to create crafts around a specific theme! Be sure to check the hosts' blogs all week for more Easter craft ideas.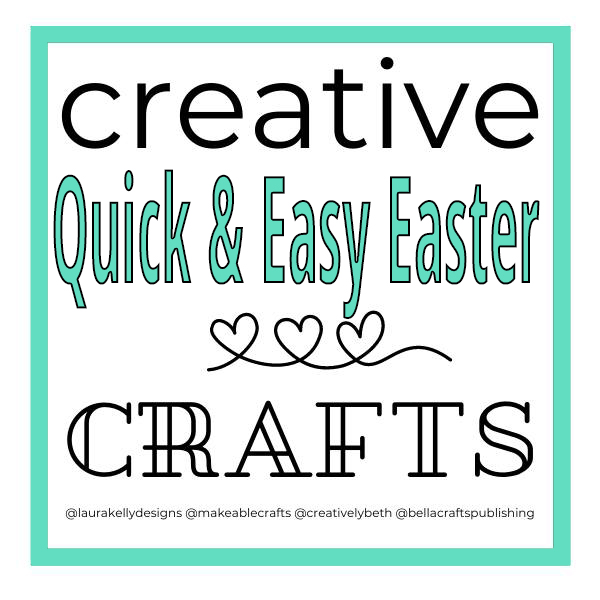 You may also like: