It is spring break here and I am trying to find ways to keep the kids busy. We don't usually have a vacation planned for this time of year, so it is just me and the kids for a week. We have planned a lot of activities to get out of the house, like going to the zoo and park days, but I needed some more projects for while we are at home. Since it is almost Easter, I thought it would be fun to create a felt Easter egg my daughter could decorate.
Supplies needed:
Hot glue gun and glue sticks
Sequins, ric-rac ribbon trim, pom pom trim, etc.
To start with I found a plain sheet of pink felt to act as my base for the project. I cut out an egg shape from white felt using a coloring page egg as a guide.
After you have your egg shape cut out, you get to move on to the fun part – creating decorations for your egg! The options are limitless for a craft like this.
I started by creating a bunch of circle polka dots out of different felt scraps.
I used a coin to use as a guide for my circle shapes.
Next, I created a garden. I cut flower tops out of pink felt and hot glued on sequins for the centers. I cut out stems and leaves from green felt. I hot glued the leaves to the stems. I also created a patch of grass out of green felt.
Note: You may want to skip the sequins if you have a younger child as it could be a choking hazard.
I found some pom pom trim in my stash and cut different lengths. You can melt the ends with a lighter or use fray-check so that it doesn't fray from being played with.
Lastly, I created a set of rainbow stripes from different colors of felt.
I created a storage pocket on the back side. I used gold glitter white felt and cut it in half. I used hot glue to glue the three edges around the bottom of the pink felt to create a pocket.
You can slip all the parts and pieces inside when you are done playing.
Then, simply tuck the top flap into the pocket to keep everything secure.
My daughter has had so much fun playing with this and creating new designs with her egg.
I created this craft as part of Craft Lightning for busy kid's week. Be sure to head over to The Country Chic Cottage, 30 Minute Crafts, and Glued to My Crafts all week to see more great ideas to keep the kids busy that can be made in 15 minutes or less.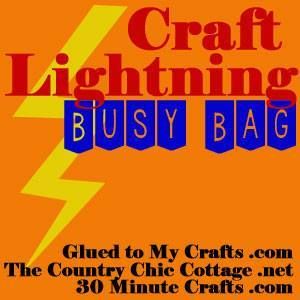 You may also like: