Craft Room Tour. Tour the craft room at Laura's Crafty Life. Learn how I organize all my craft supplies including paper, paint, Cricut supplies, and more.
I am excited to share my updated craft room for the Craft Room Tours 2016 hosted by Angie at The Country Chic Cottage. It has been fun to see everyone's craft rooms. I am so inspired by all of the creative spaces. Today is the last day of the tour and it is my turn to share my craft room with all of you.
This post contains affiliate links. If you purchase something through the link, I may receive a small commission at no extra charge to you. Please read my full disclosure policy here.
Laura's Crafty Life Craft Room Tour
I have shared parts of my room before, but it has changed quite a bit since the last time. We rearranged everything after we finished installing our laminate floors. I share this room with my husband for all of his hobby supplies, too. This room is still a work in progress but most everything has a place to go, which was my biggest challenge for a long time.
When you walk into the room, on the left we have a small computer desk with our PC. I don't use this computer a lot but this is where my kids can play educational games or Minecraft. The desk also houses my HP Envy printer. My husband surprised me with this printer for Christmas and it is amazing!
Jewelry and Small Embellishments Storage
Above the computer desk, I have a few small shelves packed with supplies. On the bottom shelf, I have a pretty metal tin I found at Hobby Lobby that holds all my small spools of American Crafts ribbon and twine. The storage drawers contain jewelry making supplies. I plan to eventually paint the whole thing white instead of gray.
The next shelf up has a lot of little bits and pieces for scrapbooking and other general craft supplies like small clothespins, glitter, floral wire and tape, and binder rings. I store my Cricut tools and label maker on the top so they are easy to find.
On the shelf above that, I have all my acrylic paints stacked in some small crates. I have one painted gold but need to paint the second one. The glass jars hold glitter glue and small spools of twine.
Faux Flower Storage
On the wall next to the computer, I have all my small bags of flowers. Often I buy floral arrangements and pull them apart to use in scrapbooking and card making. And they are all in rainbow order like much of my supplies in my craft room. It seems more orderly to me and so pretty!
My main desk is composed of eight of the storage cubes from Michaels, with four on each end of the desk. I was able to purchase a couple of these off Craigslist and the others were purchased when they were on sale and I had a 20% off coupon. Last year we created the desktop by cutting down a large piece of MDF and then I painted it with white semi-gloss paint.
Paper Storage
On the end of the desk, I keep all of my solid colored cardstock – both 12″ x 12″ and 8 1/2″ x 11″. I also keep rolls of vinyl mixed in on the shelves. Below that, I have a bin with dies and embossing folders, a bin with punches and my ribbon storage bins.
I have a large wire storage tower for all my specialty papers. They are separated by seasons, manufacturer and collection.
Adhesive and Washi Storage
In the drawers on the bottom, I keep adhesives, plus some extra specialty paints and supplies. And of course, I have a divided drawer full of washi tape!
On top of the desk, I have my Cricut Explore with the tie-dyed cover I made, a tiered basket with all my most used supplies – pens, scissors, holiday bits and pieces, pliers and cutters, Cricut pens and clips, my sewing machine, and a pen storage desktop organizer.
My desktop holds my pens so they are horizontal, and inside the drawers, I keep small clear acrylic stamps and stamp pads. In the other drawer, I have the small rolls of ribbon from Jo-Anns. Do you see that adorable Scotty dog washi holder. It is new from We R Memory Keepers!
Under the desk, I have a large rolling storage bin that holds We R Memory Keepers supplies. I am on the design team for 2016 and I need to keep those supplies separate and easily accessible for projects.
Cricut Mat Storage
I have my Cricut mats hung up on the side of the desk with a command hook, so they are easily accessible when I am crafting.
In the drawer, I have all my cardstock and paper scraps separated by color in hanging folders. I don't like to toss anything and I often head to my scrap drawer first when working on smaller paper crafting projects.
Gift Wrap Storage
In the corner of the room next to the desk, I have more We R Memory Keepers supplies and a large bin with wrapping paper.
In the closet, I have all of my gift wrapping supplies – tissue paper on hangers, a garment bag with more wrapping paper, bags of bows, my greeting card organizer, and small gift bags. I also have crafting books and other supplies on the shelves. On the door, I hang my cutting mat and acrylic rulers on a command hook.
Fabric Storage
To the right of the closet, I have a rolling cart I purchased from World Market. All of my fabric is folded onto comic book boards, pinned and filed in the cart by color.
Above the fabric, I have a couple of small shelves to hold buttons separated by color and my washi tape bunting.
Scrapbook Embellishment Storage
I have another set of Recollection storage cubes which mainly hold scrapbooking supplies, like stickers, letters, and small embellishments.
Above it, I have the Fuse organizer, with more We R Memory Keepers tools – like my fuse and the heatwave tool. I also have baker's twine on the shelves and a basket full of gift tags. I keep my paint brushes in a small bucket I found at Target. The plastic bin holds more jewelry making supplies.
We R Memory Keepers Tool Storage
I have a large cabinet that holds more supplies with two large shelves above it.
The top shelf holds my Cinch tool, party supplies, scissors and painting supplies. The next shelf has the Evolution Advanced, embossing folders, and two baskets of adhesives.
Miscellaneous Craft Supply Storage
The cabinet has all of my Project Life supplies for scrapbooking.
Below that, I have my mom's sewing basket. My cat scratched up the top but I am not sure I will be able to find this vintage fabric to replace it so I am still working on a fix. Behind the basket, I keep all my thread in repurposed plastic candy containers.
The cabinet is kind of a mess, but it holds my glue gun and Aleene's adhesives, stamps, and extra small supplies. And the drawers contain chipboard and decorative letters separated by each letter of the alphabet.
The bottom drawer holds filed patterned papers that are 8 1/2″ x 11″ or smaller.
Raskog Cart Storage
I also have a craft cart that holds more miscellaneous supplies like mason jars, extra markers and pens, and other random stuff I use for crafting. It sort of just floats around the room as I need it. We don't have an IKEA locally, but I was lucky enough to find this very similar cart at Sam's Club.
Current Projects
The large metal basket on the floor holds all my current projects I am working on. It is usually overflowing, but I am working on completing some of these projects before I take on more.
I have my CREATE marquee letters above the windows. And that adorable felt ball garland is from my secret sister last year at Snap!
I hope you have enjoyed seeing in a peek into where I create. It has been so fun sharing my creative space with you! Be sure to head over to The Country Chic Cottage to see all the other craft rooms on the tour!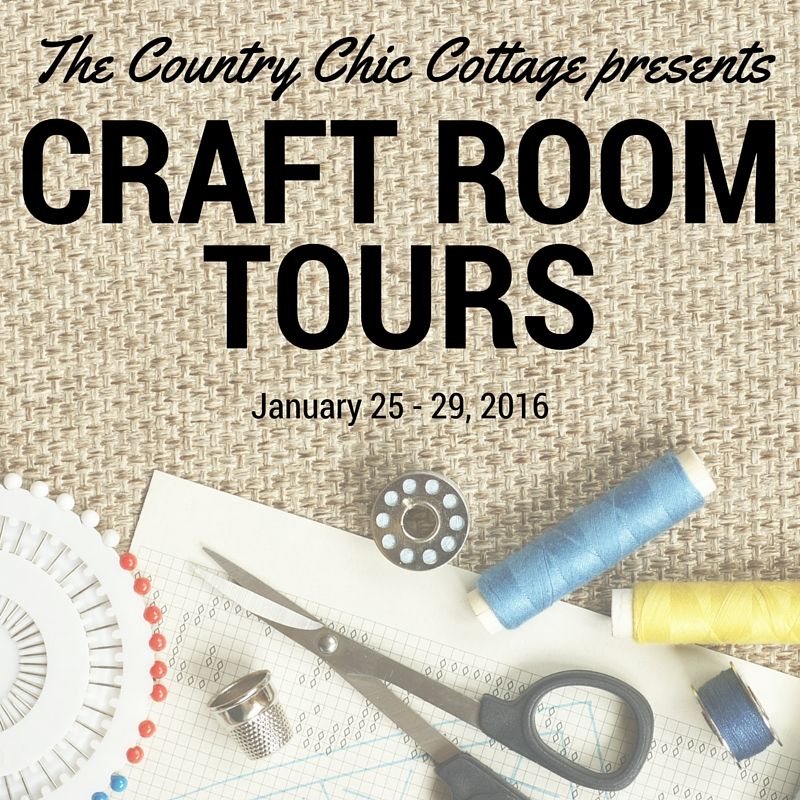 You may also like: