Updated on May 23, 2023
I am participating in another Craft Lightning hosted by The Country Chic Cottage and 30 Minute Crafts. This month there was no theme , so we could do any craft that takes less than 15 minutes to make. Be sure to head over to both blogs to see more inspiration for quick crafts that you can make in no time. My craft takes about 5 minutes to whip up!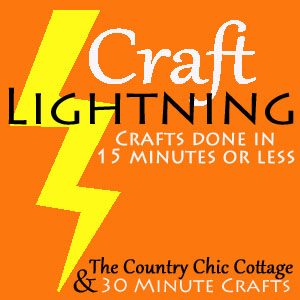 Washi Tape Chalk Board
Supplies needed: (contains affiliate links)
This craft is so easy to do! And if I ever want to change it out, the washi tape is removeable! I covered the unfinished wood portion of the chalk board with washi tape. My tape is very wide, so I was able to wrap it around to the back with just one piece. If your washi tape is thinner, you can add two or three extra strips to wrap around to the back.
Start with the long edge and wrap the wood with your washi tape.
Wrap the corner like you would a present. Repeat on the other long edge.
For the short sides, cut a strip of washi tape the width of your chalk board. Cut the tape at a slight inward angle for the part that hangs over so that it doesn't end up hanging over the edge. Do the same for the bottom edge.
For those of you that have worked with washi tape before you will know that it can sometimes peel up on the edges. Also the back looked pretty rough. To remedy both of these problems, I used a coordinating tape to secure the tape to the back and make it look more finished.
I overlapped the polka dot tape slightly over the edge of the floral tape that I had already attached.
Now your chalk board is ready to use! I wrote down my upcoming projects for my blog. You could also use this chalkboard for labeling food at a party, a chore list for your kids or yourself, or even a dinner menu! Washi tape comes in so many styles and patterns now, you could make a chalk board for every occasion!
Other 15 minute crafts you may also like: